"Creating Opportunities For Our Future" is this year's theme for the 2nd Annual Power On Heels Conference & Scholarship Awards.
Please join the POWER On Heels Fund, Inc as we continue towards achieving our mission to lead and advocate for Latinas against gender pay gap inequity and the challenges Latinas face in today's changing economy. On November 13th, 2020, we will host our 2nd Annual Power On Heels Conference & Scholarship Awards .
This year's theme is "Creating Opportunities For Our Future".
We have planned an exciting agenda for you!
3 Amazing SPEAKERS
Fleriser Bello – Bella Fashionistas Inc.
Angeles Valenciano – CEO of National Diversity Council
Patricia Mota – President & CEO of Hispanic Alliance of Career Enhancement (HACE)
POWER On Heels Community Awards
We will honor community leaders that advocate for Latinas through their efforts and daily determination to help advance their ability to succeed.
POWER On Heels Scholarship
The presentation of our 2020 Power Heels Scholarships to ten deserving Latinas professionals, business owners and college students. The selected scholarship award winners will receive a scholarship to attend a program/course/training. Scholarship funds may be utilized to fund the following:
College Education
Trade School
Training Course
Business Certification
Trade Certification
OUR KEYNOTE SPEAKER
We, at POWER On Heels Fund, are honored to bring such a dynamic Keynote Speaker this year. Please meet the amazing Cenia Paredes, Designer and Founder of Cenia® New York. This innovative fashion entrepreneur ready to wear collection Cenia New York®, a line of day into evening dresses with a revolutionary fit concept that offers four distinctive fits that catered to the most predominant female body types, being the first and only designer in fashion history to implement this concept and bring it to a major department store in USA.
Check out Cenia on her website http://www.ceniany.com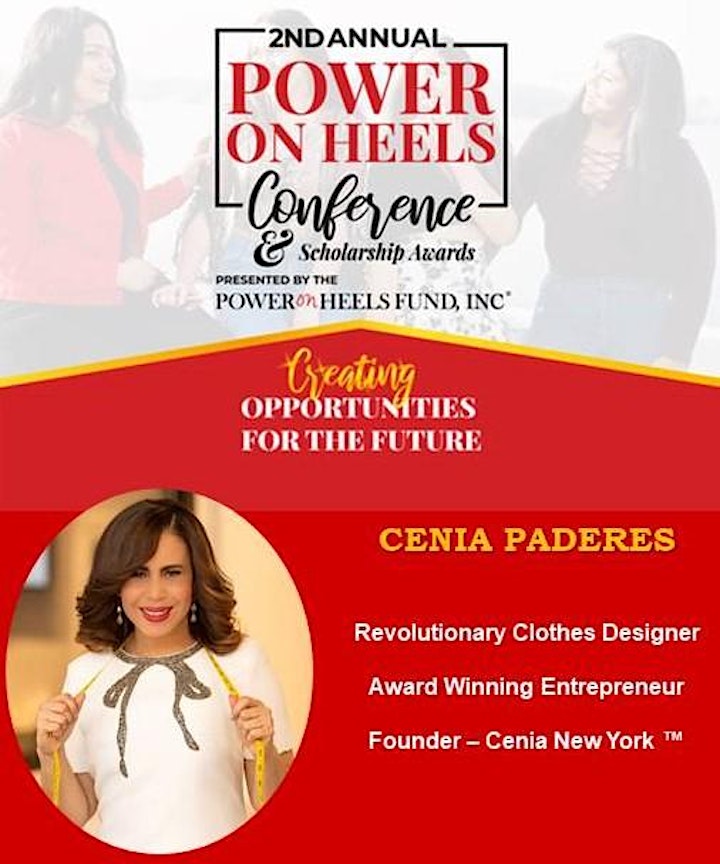 Date: November 13th, 2020
Time: 9:00am to 12:00pm
Virtual Event: Link will be forward prior to event.
COST:
Non-Member – $39
POHF Member – $20 with Discount Code
Sponsorship Opportunities
Please take a moment to review our sponsorship. We understand the importance of building brand loyalty with a community like ours. The sponsorship opportunities are designed to assist your company in gaining exposure to the fastest growing purchasing power in our economy – Latinas professionals and business owners!
If your company is interested in being an event sponsor, you can purchase online. For additional information, please send an email to info@poweronheelsfund.org or SponsorshipChair@poweronheelsfund.org
We can't wait to hear back!