Power On Heels Fund, Inc and CHASE Bank wants to encourage LATINAS to make savvy financial decisions and build real lasting wealth.
As part of the Power On Heels Fund, Inc – LATINA POWER Academy
Together, Power On Heels Fund, Inc and CHASE want to take the intimidation out of dealing with financial decisions. Whether it's managing monthly expenses, building a nest egg, purchasing your first home or starting a business, we want to be a source of support for LATINAS in our community to build a strong sense of financial wealth building! We want to help LATINAS understand, identify and maximize wealth building options they have available, because having wealth provides options. #REALTALK
LATINAS Building Wealth Series
This hybrid series of financial workshops will break down financial challenges not often talked about among LATINAS:
How to manage monthly expense and maximize savings
How to finance your business – For Startup and Existing Business Owners
Understanding your retirement plan
Why homeownership makes sense
From March through June 2022, we proudly bring to you the Latina Build Wealth Series. We are set to provide financial education , resources and tips that will begin to create the foundation needed to build lasting wealth!
Our GOAL:
To help LATINAS to feel more powerful and confident when making financial decisions.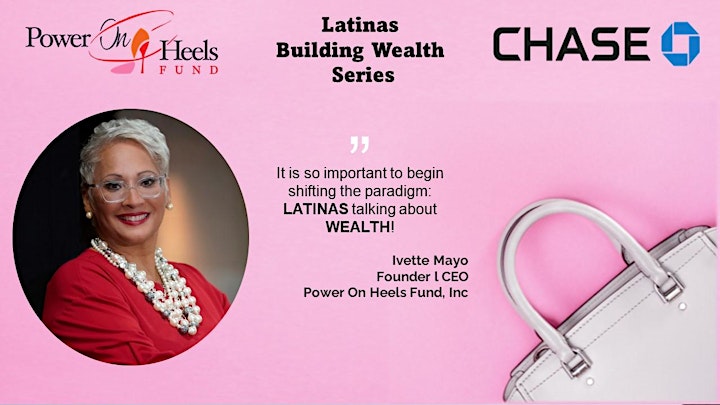 Block your calendar now on the THIRD THURSDAY of the month for these WEALTH BUILDING sessions.
March 17th – Manage Your Money
April 14th – Entrepreneurship – Financing Your Business
May 19th – Investment – What you need to know about your 401K and your future.
June 16th – Homeownership – Why making this purchase is so important!
Register TODAY!
This series of hybrid workshops give 2 options
1. Limited Seating for In Person – lunch included – Limited to 20 per session
2. Zoom Registration – Join us from wherever you are!
We want to encourage you to sign up for 1, 2, 3 or all 4 workshops.
Registration is required and FREE!
POWER on Heels Fund, Inc and CHASE cannot wait to provide you the knowledge to help you build WEALTH!