An engaging conversation with National Latina Leader and Change Agent – Gloria Romano Barrera, Managing Editor of Latina Style Magazine!
POWER On Heels Fund, Inc continues to creates events that inspire, empower and support your growth and reinforces your unique POWER! We strive to find resources, tools, experts and leaders that bring real value, strength, and knowledge to our community!
Is it possible to create balance when we are juggling life, job, business, family and dreams ?
It's so hard to find the balance between your family life , your career, to make time for yourself and to pursue your purpose. It can sometimes feel like you're living in a bubble that doesn't include any time for yourself. Finding the balance within a hectic schedule filled tasks is getting more difficult during COVID-19 too. Maybe, it is letting go of the idea that balance needs to occur to achieve your real success?
Join us as Power On Heels Fund, Inc presents "Disrupting The Standard – Balancing Growth, Opportunities and Life" with an amazingly #POWERFUL #Latina #Wife, #Mom, #Passionate #Journalist #OrganicFarmer #ManagingEditor – Gloria Romano Barrera
You won't want to miss Gloria!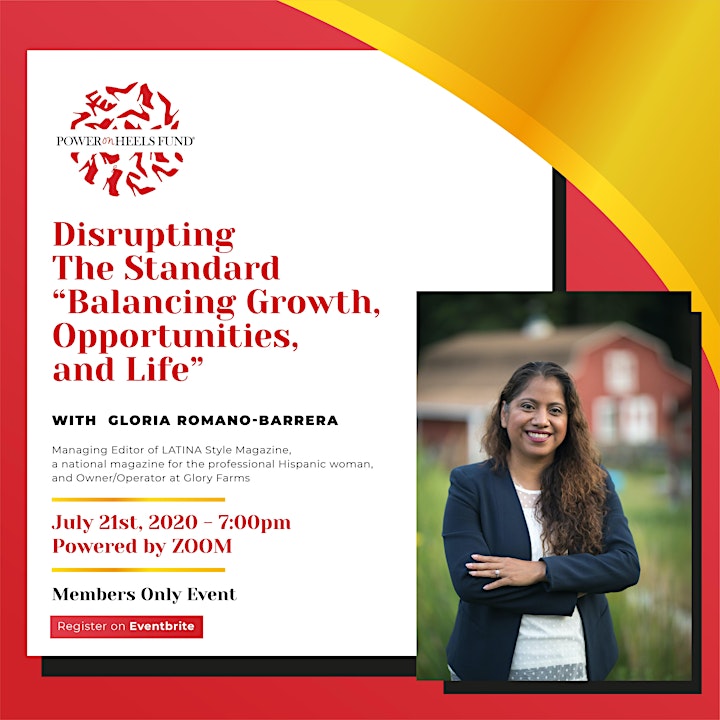 Meet Gloria Romano-Barrera
Gloria Romano-Barrera is the Managing Editor of LATINA Style Magazine, a national magazine for the professional Hispanic woman. She is responsible for the day-to-day operations — overseeing planning and execution — of the bi-monthly publication and its digital platforms. It is through the organization's publication and programs that she plays a direct role in highlighting Latina success stories, empowering and inspiring the next generation of Latina leaders.
Joining LATINA Style in 2006, Gloria has risen to become the principal representative for the magazine, responsible for promoting and expanding the company's profile across government, nonprofit, and the private sector. She serves as a primary liaison between LATINA Style and organizations across the nation.
She has also contributed to publications such as the CENTRO Journal at the Center for Puerto Rican Studies, Ceramics Magazine, and U.S. Connected Magazine.
She is a member of the National Association of Hispanic Journalists (NAHJ) and the National Association of Professional Women (NAPW). Gloria was a 2006 Ford Motor Company NAHJ/NAHP Journalism fellow. In 2013, she was recognized by New York Life for her work as a Latina leader. In 2015, she participated in the American Society of News Editors (ASNE) Minority Leadership Institute program. In 2019 she was recognized as one of the D.C. region's "40 Under 40" Latino leaders by Prospanica. She has served on the advisory board for Latinas Leading Tomorrow, an organization that empowers first-generation college-bound Latinas.
Gloria holds a BA in Media Studies and a BA in Studio Art from Hunter College, City University of New York. Gloria, her husband Josué, and son Zabdiel live in Accokeek, MD. They are owner-operators of Glory Fields, a small-scale sustainable farm in Southern Maryland, just south of Washington, D.C. Their mission is to support positive stewardship of the land reclaiming natural and sustainable practices. They are members of the Chesapeake Alliance for Sustainable Agriculture and participants of the Future Harvest training program.
Date: July 21st, 2020
Time: 7:00pm – 8:00pm CST
Registration
POHF Members – Enjoy your member benefits!
Power Purse and Power Briefcase Members are FREE!
You will receive your discount code via email.
Non- Members
You can attend with a $10 Donation to our POHF Scholarship Fund.
Event Powered by ZOOM – Post your registration, you will receive secured log in information.
Consider making a DONATION towards our Power On Heels Scholarship
Purpose of Scholarships
POWER On Heels Fund, Inc.'s Power On Heels Awards will be awarded to Latina college students, professionals and business owners whose personal and professional success will RISE by continuing their education, attending educational seminars/courses, cultivating leadership opportunities, and increasing earning potential.
Visit our website for more information: https://poweronheelsfund.org/scholarship/
#SocialEquity #Latina #GenderPayGap #PowerOn